Allion USA-SGS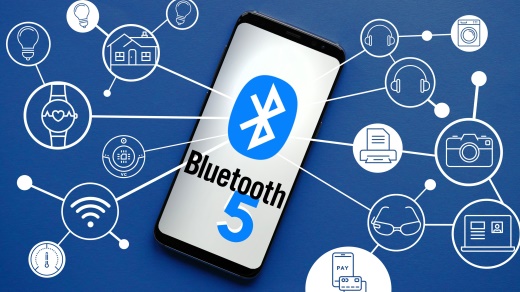 Everybody is familiar with Bluetooth earphones, keyboards, and mice. Bluetooth is a technology for wireless data and voice communication under global specifications.  Bluetooth is, in fact in our daily life as it connects devices. It connects different devices wirelessly, allowing data to be transmitted and received in various domain systems. With the evolution of technology, the types of devices are far beyond imagination and the technology version. Bluetooth is one of the wireless technologies that is widely used in the modern era.
(Based on the forecast of Bluetooth SIG, the shipments of low-power consumption Bluetooth devices will increase in 2025. A fast-growing platform like Bluetooth needs to evolve continuously in order for the newly released 5.3 version to maintain its value and grow the entire system.)
Evolution of Bluetooth 5.3
Bluetooth SIG released the latest version 5.3 on July 13th, 2021.

With the release of version 5.3, the main updates of Bluetooth Low Energy increase the performance, and anti-interference, furthermore, it also reduces power consumption, etc. These updates improve low-power-related Bluetooth devices and applications.
1. Connection Sub-rating
Connection sub-rating improves the communication interval on dynamic change. It saves power by reducing the communication frequency and increasing the interval. When transmitting data and information, it changes to shorter intervals to speed up the reaction time.

Source: Bluetooth SIG
2. Two-way Communication to Avoid Interfering Channels
There was only a central device that determined the channel previously, however, version 5.3 responds available channel to the central device by detecting the condition of peripheral devices
Source: Bluetooth SIG
3. Ignore Receiving Periodic Broadcasts to Enhance Power Saving
Bluetooth Low Energy devices typically send periodic broadcasts multiple times, AdvDataInfo is included in the transmitted data from the sending devices to allow receiving devices to check if they have previously received the data. If so, the devices stop receiving to avoid sending redundant data to the host. By filtering what is passed to the host, the low-power consumption devices save even more power by ignoring redundant data packets.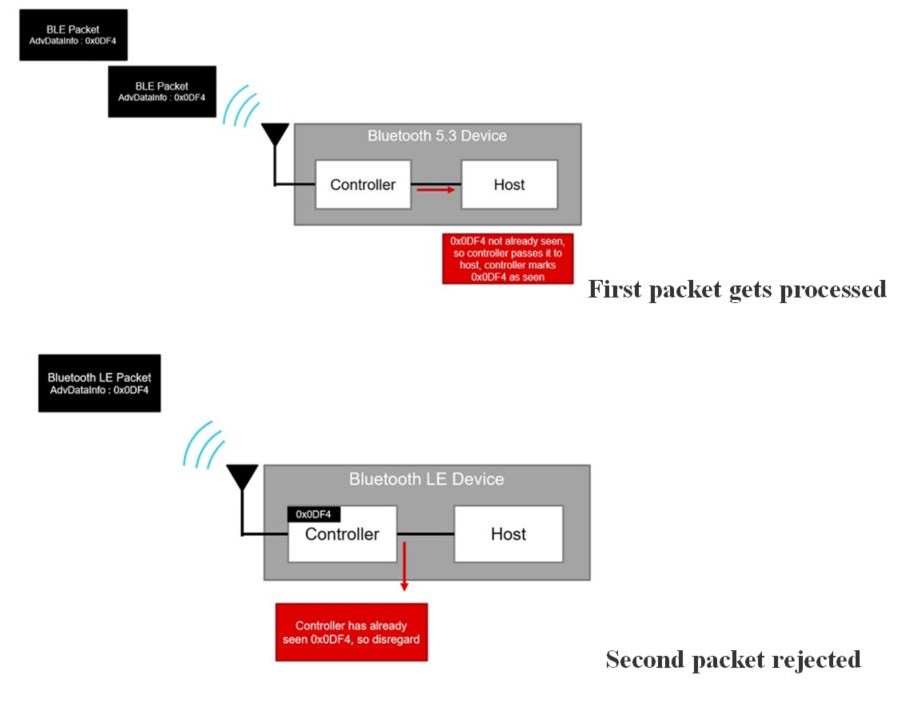 Source: Bluetooth SIG
The Bluetooth Ecosystem
The technology is applied to large numbers of products from personal use to office use as it builds connections in short distances by eliminating the hassle of connecting devices with wires and cables. For example, laptops/desktops/keyboards/mice/earphones, and many other electronic devices. In addition, low power consumption Bluetooth technology increases more applications such as personal use/office use to the automotive industry and medical devices.
Personal Home/Office
Game handles, selfie sticks, Bluetooth anti-lost keychains, earphones, speakers, printers, computers, mice, keyboards, mobile phones, and cameras
Automobile and Motorcycle Industry
Keyless unlocking, OBD, tire pressure monitoring, central control audio, car/hard hat hands-free calling, the steering wheel controller
Medical Industry
Taiwan's social distance app, ear/forehead thermometer, ear thermometer, blood pressure monitor, body fat monitor, blood glucose meter, oximeter, and heart rate meter, all have Bluetooth wireless transmission function, through Bluetooth sensors, and chronic disease Patients can measure their own health index and send it to caregivers through Bluetooth devices
Sports Technology
Smart wearable wristwatches, balls/bats/racquets with built-in Bluetooth sensors

Got Issues with Bluetooth?
Bluetooth specification is the basic protocol, however, there are various problems with design differences as this technology comes from the chip suppliers, factories, and brand designers in mass production.
Compatibility Issues
Bluetooth exists for a long time and there are different versions that lead to compatibility issues.
Parts of old chips and software do not get updated for a long time in the vehicles, hence the compatibility issues.
Issues occur with third-party applications as part of Bluetooth devices use the public version of drivers that are also used in a variety of third-party applications.
With the introduction of new technologies in the industry, manufacturers have to adjust the Bluetooth applications and there might be some unnoticed problems.
Compatibility is quite a challenge as Bluetooth is added to the era of IoT connecting Bluetooth bridges/ cell phones/ tablets/ operating systems/ browsers.
Compatibility Case
The volume of Bluetooth earphones cannot be controlled

Unrecognizable Bluetooth connection

Cortana cannot be activated by Bluetooth pens

The device is unrecognizable after Bluetooth is connected

TV audio cannot be paired with Bluetooth devices

What Bluetooth Tests are Available?
Compatibility Test
Allion USA-SGS provides various brands of devices for testing the products that function well with different brands' hardware and software in the market.
Bluetooth devices: PC-446 units, MAC- 90 units, Tablet-70 units, Cell phones- 370units, Bluetooth earphones- 150 units, Bluetooth speakers- 110 units, Amplifiers- 31 units, Bluetooth receivers- 22 units, Vehicles- 15 units, Cameras- 20 units, TV- 50 units, wearable devices- 68 units.
System: voice assistance/IoT system
Operating environment: All kinds of operating systems/ browsers.
Functional Test
The functions of Bluetooth applications are complicated. Every brand has its own uniqueness; therefore, it is crucial to find out the flaw of designs in advance.
Verification: Out-of-the-box settings/Function confirmation/Online update/Low battery impact/Multilingual verification
Durability Test
Users focus on durability and stability as a new generation of Bluetooth applications has requirements for lower power consumption.
Verification: Battery consumption test/Bluetooth disconnection cycle test/Long play test
Wireless Interference Test
Bluetooth technology uses the global common frequency band (2.4GHz) on Bluetooth products, therefore, using one of the frequency bands will encounter unpredictable interference. For example, certain appliances, massage chairs, wireless phones, garage remotes, and microwaves could be interference with.
Verification: Influence of peripheral devices equipment interference/ Distance between installation and Bluetooth bridge.
The Allion USA-SGS RF Lab can simulate different kinds of interfering environments (energy, frequency band, usage amount) to confirm if the products fulfill consumers' expectations with interference. Furthermore, we also provide a stable environment to assist product development and debugging.  Case: Wireless earphones anti-jamming ability test and evolution & Research and test of Bluetooth keyboard on wireless performance and latency.
Who Can Help with the Bluetooth Certification Test?
Bluetooth SIG promotes consistent specification, however, with a variety of products, there is a different requirement for tests. Most suppliers are not familiar with the process of introducing new functions or versions. In addition, the requirement and process are more complicated with restrictions on different devices (new product/existing product/add-on design/certified Bluetooth module.)
Our One-Stop Certification Service
Our Bluetooth Qualification Consultant (BQC) who is certified by Bluetooth SIG can help the manufacturers from consultancy to SIG account registration, experience the process of the tests, and be certified at the end.
Consultancy on the specification of Bluetooth devices that are SIG certified, including tested item evaluation/test time consultation/test plan submission.
Comprehensive service for certification specification testing, providing test results and debugging services
Certification test results review and upload Bluetooth SIG, Bluetooth device QDID acquisition/certification list
Professional Services and Debugging Capabilities
With 30 years of experience, we provide test services on hardware, software, UX, logo, report integration, and debugging.
JIRA reporting system, providing annual big data accumulation

Protocol analyzer (Ellisys Bluetooth Vanguard) debugging service

Provide related logs according to the problem, and capture packets/data throughput/communication frequency band/topology structure/spectrum analysis/logic analysis/error detection, etc.

Professional equipment provides in-depth tests
Radio wave isolation box/radio wave isolation room/temperature and humidity control box

Take the Next Step
With over 30 years of IT testing experience, Allion USA-SGS provides certification services, customized test services, professional market evaluations, and competitive product analysis reports for customers to improve product performance and user experience. Our company helps major manufacturers build brand reputations and take advantage of market opportunities in fierce product competition.
If you have any testing needs, please let us know by email or contact form.