Allion Labs
In early 2020, the COVID-19 global pandemic suddenly hit, forcing most people to stay indoors. The emerging demand for remote teaching and working from home has not only fundamentally changed people's daily routines and habits, but the demand for mobile power banks has greatly reduced, seeing that sales in the market have begun to stagnate.
However, after vaccines have been introduced, the risk of severe illness has been effectively reduced, and the variants of COVID-19 are becoming less fierce, it was officially announced that we have entered the post-pandemic era. Returning to normal work and studies, being able to travel again, going to restaurants, and playing mobile games or watching dramas during daily commutes are all coming back into our lives again. In order to prevent mobile devices from running out of batteries, most people bring some type of portable charger when they go outside. This is also gradually creating more demand for portable chargers.
After two years of the power bank's market stagnation, in addition to increase in demand, some users have also begun to look for replacements of old portable charging supplies. When buying a power bank, you must understand some technical functions and specifications first. Here are 6 major tips that Allion has collected for you based on our rich testing experience accumulated by assisting ODMs and brand clients for years:
Tip 1: Safety
Most power banks sold by brands require safety certification before they can be sold, such as the Taiwan Commodity Inspection Certification(BSMI), European Conformity Certification (CE), Federal Communications Commission Certification (FCC), and others. It depends on the local regulations of where the product is sold. In addition, some manufacturers will announce the safety design of their own products, such as overcharge and discharge protection, voltage and current protection, short circuit, or high-temperature protection.  There are also products that choose to provide additional insurance in case of accidents, or third-party lab test reports. We recommend that consumers pay attention to whether there are safety regulations or certifications when purchasing power banks.

To protect the rights of consumers, most power banks will have safety certifications and precautions for usage.
Tip 2: Battery Capacity
For long hours spent outside, the battery capacity of a power bank is one of the most important aspects to consider. In addition, we also need to consider the convenience of carrying it around. A light, thin, and short design is something consumers should put into consideration when choosing a power bank.
In general, the battery capacity of a power bank is around 5000-36800mAh (sometimes even more). As for whether to choose a large or small capacity depends on the actual needs and usage of the user. Mobile power banks are primarily used for mobile phone charging, and secondarily used for charging laptops or other devices. To take into account both a large battery capacity and a portable size, the current mainstream mobile power bank battery capacity is 10000-20000 mAh.
Generally, the battery capacity and output capacity will be marked on the product packaging or body. For example, a 1000mAh/3.7V power bank will have 10000mAh x 3.7V / 5V = 7400mAh output capacity at 5V. After you factor in energy loss, the manufacturer will rate the output capacity of 5V/1A as 6000-7000mAh. However, these numbers are just data recorded in the lab, therefore some manufacturers prefer to advertise the actual number of times the mobile device can be charged, because consumers will still have energy loss during usage.
In order for the power bank to be portable, it's important for the design to be light and thin. Some power banks also support Qi or MagSafe wireless charging, most being around 4000mAh.
MagSafe can magnetically connect to a mobile phone, providing users with a different wireless charging experience. (Source: Apple Taiwan)
Tip 3: Ports
The available charging ports are also very important to consider. A power bank usually has two modes: input and output. In the early days, USB micro-B ports were used to input and USB Type-A ports were used for output. In recent years with the addition of USB Type-C® and Lightning adapters, these have become suitable for most consumers.
Most of the recent mobile power bank products have USB Type-C® ports that can be used for both input and output. Some power banks have their own charging plugs, charging cables, or built-in wireless charging. There are even multi-port outputs that can be charged simultaneously, allowing users to charge multiple devices at a time. However, sometimes the battery supply of the different ports are shared, the total output stays fixed. Therefore, when consumers are choosing between charging technology and charging capabilities, they need to pay more attention to the manufacturer's specifications.

Tip 4: Charging Technology
With the demands of today's multi-functional smartphones and high-definition audio and video needs, the power consumption of mobile devices has also increased. When you're away from home, it's important to have a power bank that can be charged anytime and anywhere. In order to shorten charging times, different kinds of fast charging technology have been applied to power banks. However, fast charging technology can only fully utilize its performance when the power bank, the charging cable, and the mobile device simultaneously support the technology. Presently, most mainstream power banks on the market support QC 2.0/3.0, and only some selections support QC 4.0. Power banks that support PD 2.0 or 3.0 100W can also charge devices that are compatible with it. Before making a purchase, consumers are advised to check the charging technology that's supported by their devices.

Tip 5: Applicable Devices
As the name suggests, a power bank is a power supply device for users to carry with them when they are outside. The main devices used with power banks include smartphones, tablets, and wireless earphones. There are also some fast charging technologies that support USB PD for laptops. Some commercial mobile charging products can even support PD 3.1 140W, which can handle almost all types of mobile devices with a USB power supply interface. (Editor's note: The premise is that the device needs to support the corresponding fast charging technology and the charging cable also needs to support the current and e-Mark identification chip.)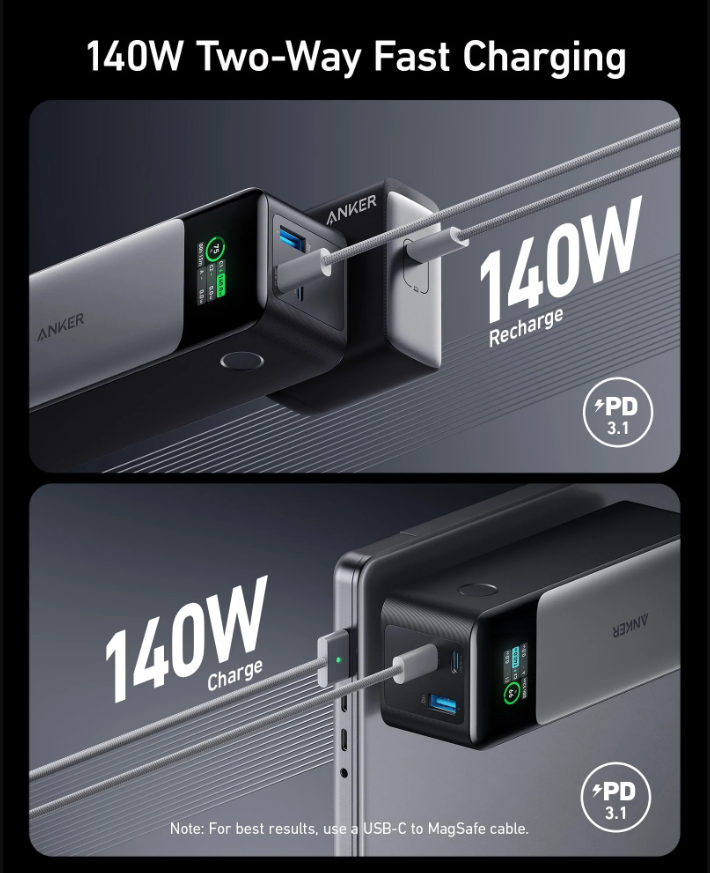 Portable charging products are changing rapidly, as products that support up to 140W two-way fast charging have been released. (Source: Anker)
Tip 6: Compatibility
USB charging has been around for a while and it's impossible to predict which device combinations consumers will use. Therefore, when choosing a power bank, its compatibility with various devices and charging specifications is also worth considering. In response to the high demands of power consumption in smart devices,  manufacturers have introduced different versions of fast charging technology. Even if the same standard of QC or PD fast charging is used, these versions will continue to evolve over time and there are also devices that support two or more fast charging technologies simultaneously. Therefore, it's inevitable to run into problems such as compatibility between charging modes and power banks or charging speeds not being able to reach the consumer's expectations. If a power bank manufacturer can provide a compatibility list or a third-party lab test report, it could gain the trust of consumers.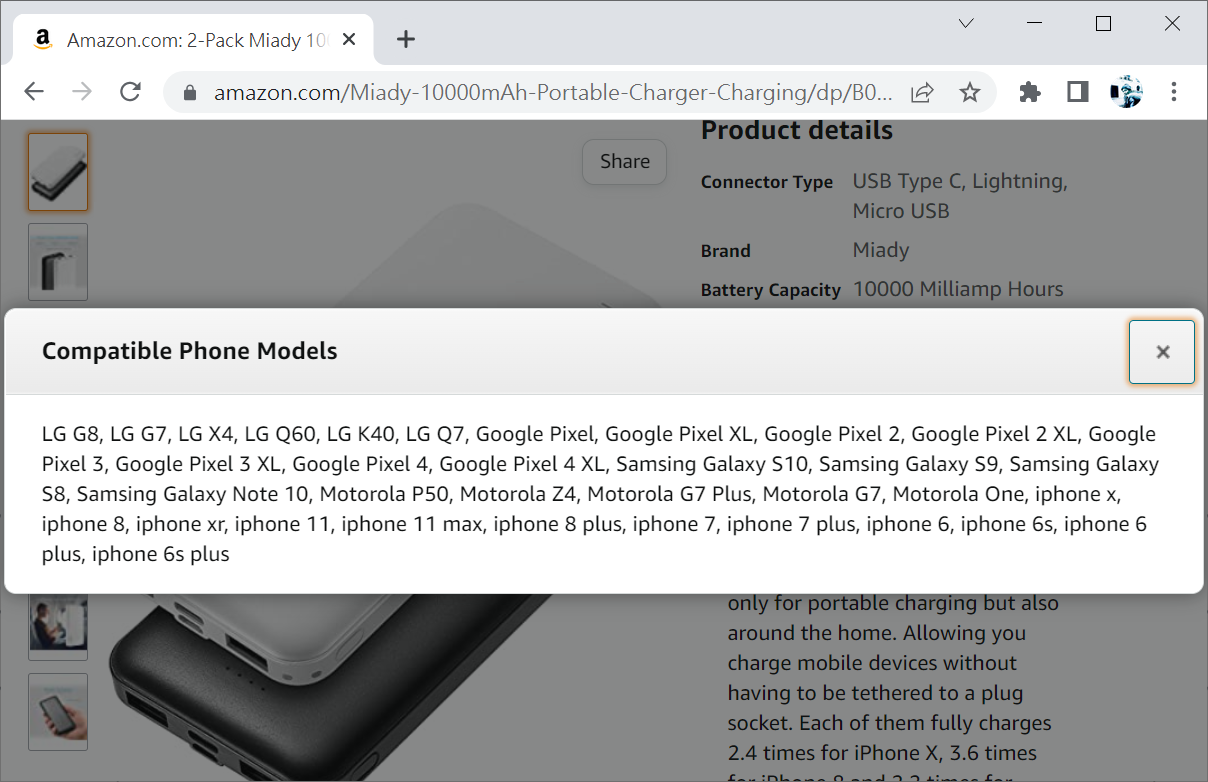 The power bank manufacturer provides a compatibility list of supported mobile device brands and models. (Source: Amazon.com)
Most power banks don't come with a charger, so manufacturers also need to take into account the compatibility for the power bank's charger. Using certified cables that were tested provides a more stable and efficient electrical current.
Are All Power Banks Plug-and-Play?
Due to different kinds of fast charging technology, different combinations of USB ports, and design considerations of various manufacturers, when consumers demand different things and when user behaviors differ, it's inevitable that there will be small problems with the design. As a result with some users, it's possible that the purchased power bank doesn't have the advertised capability or the charger, cable, or mobile device may also have compatibility issues, which leads to a bad user experience.
Below are some common user feedback:
Issue
User Feedback
Function
● In some user behavior modes, the charging power declared in the specifications couldn't be provided.

● The design is inconsistent with actual usage. For example, light signals, charging direction, fast charge switching, multi-port power supply, etc.

Compatibility
● Doesn't enter fast charge mode.

● Unable to charge or get charged.

● Charging current is lower than expected or is unstable.

● The specific brand of charging cable, power bank, and mobile device don't match up.

Stability
After charging for a long time, it overheats and interrupts charging.
Practical Use Cases
Case 1: After checking the battery of the power bank during charging, the power bank is unable to start fast charging, and goes back to normal charging. This cannot be reset even if the cable is plugged in again. The fast charging function can only be activated after the power bank has been charged or turned off for more than 10 minutes. This design issue occurs with devices that support USB Type-C® PD or QC fast charging.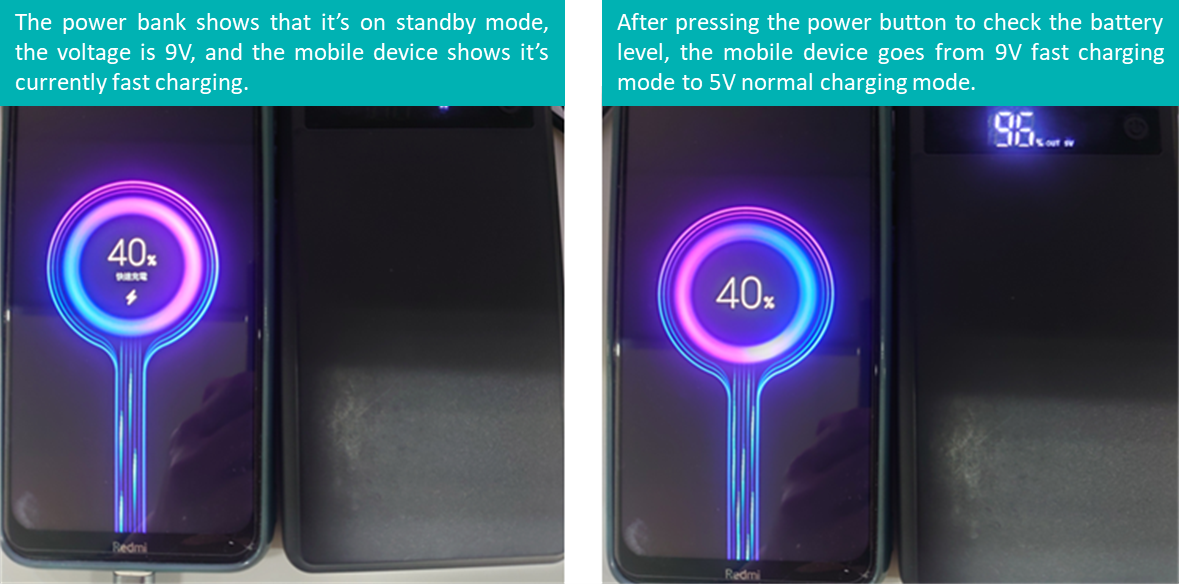 Case 2: When charging the mobile device, there is a compatibility problem. After replacing the power bank with another one, it works normally.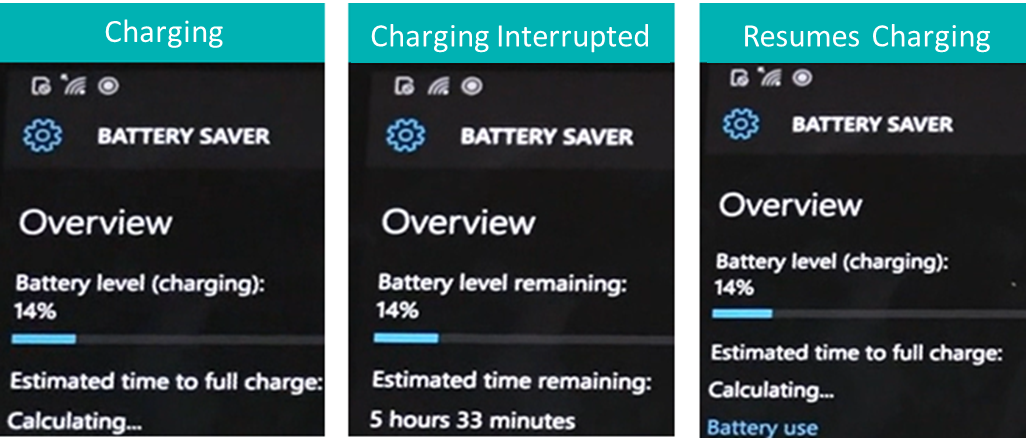 During testing, Allion's power measurement module monitors the whole charging process and is able to observe the abnormal occurrence of the voltage and current.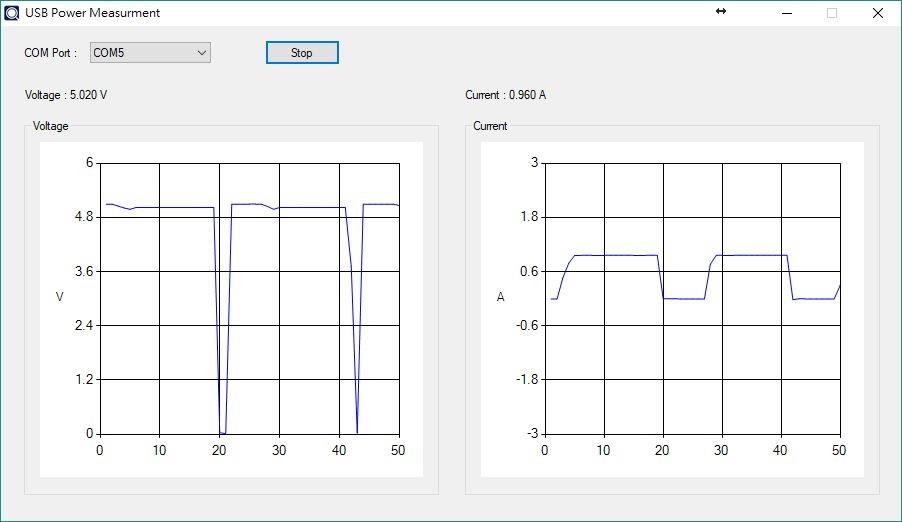 Case 3: During the charging process, after unplugging and plugging the charging cable back in, the compatibility issue that interrupts charging occurs.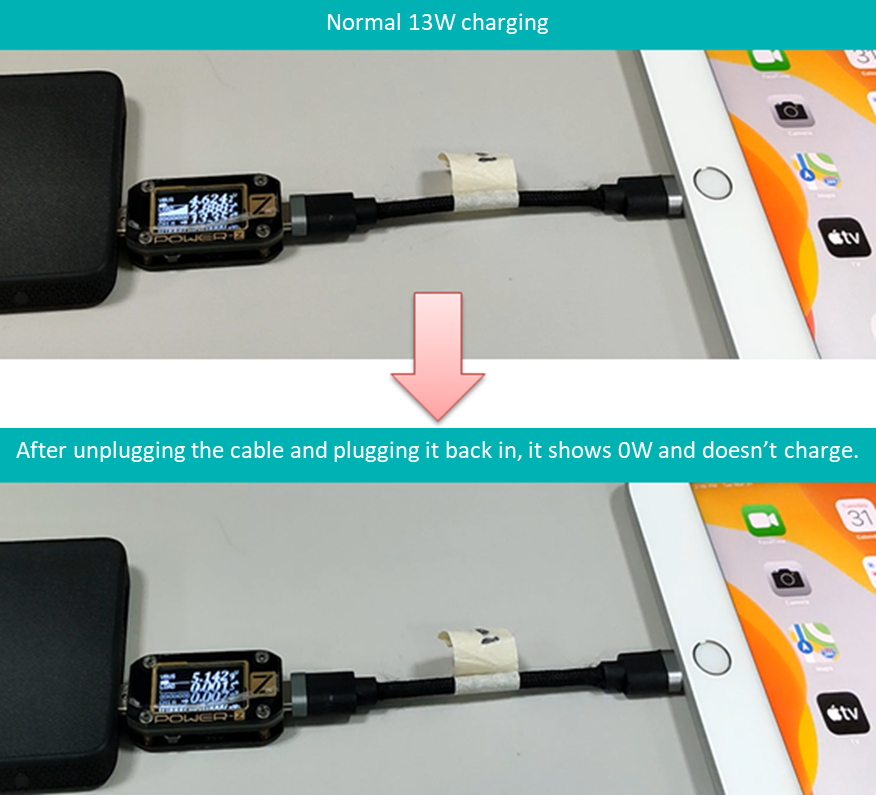 Case 4: The power bank charges the laptop when the laptop charger is plugged in, but after unplugging the laptop charger, the power bank stops charging the laptop.
Step 1: Connect the USB Type-C® power bank to the laptop and the charging icon will appear.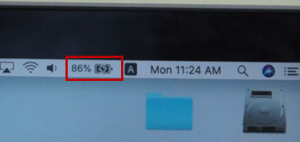 Step 2: Connect the laptop charger to the power bank. Both the power bank and laptop charger will charge the laptop normally.
Step 3: Remove the laptop charger from the power bank, and the laptop will stop charging.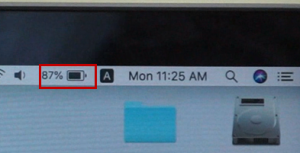 Case 5: When the user is charging a laptop and a mobile phone simultaneously, after long pressing the power button of the power bank to check the battery level, the mobile phone continues to charge, but is unable to continue charging the laptop. This user behavior pattern often occurs, but is a design problem that's easily overlooked.
Step 1: Connect the power bank to the mobile phone and laptop at the same time. Both the phone and laptop show that they are being charged.

Step 2: After long-pressing the power button of the power bank to check the battery level, the mobile phone continues to charge, but the laptop stops charging.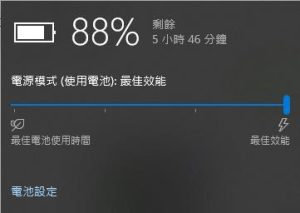 From the practical cases above, we can see that there are still many potential problems when using power banks. If manufacturers have new products to release, they can trust Allion to conduct relevant tests to solve the problems before the product launch, avoiding potential bad experiences for consumers.
Allion: Power Bank Testing Solutions
Other than charging and being charged, power banks also have other potential problems such as user behavior patterns, cable compatibility, fast charging compatibility, and more. As a designated laboratory of many technical standards associations, Allion provides USB PD, charging cable, and connector certification services, flexible testing processes, the latest technical specifications, a full range of certification consulting, and real-time debugging analyses. Allion will strictly check the quality of your power banks, help you obtain certifications, and seize opportunities on the market!
Function Testing
Disclose if the power bank's functions are consistent with the listed specifications, including light signals, charging direction, fast charge switching modes, etc.
Conduct various tests of user scenarios, including simultaneous charging, plugging and unplugging, simultaneous input and output charging, etc.
Compatibility Testing
Provides multiple brands and models of devices with over 1,500 devices that can be tested for charging. We ensure that your products can charge devices of various brands that are compatible with USB charging such as laptops, Macs, tablets, mobile phones, etc.
Conduct compatibility testing of cables and chargers available on the market, as well as various product accessories.
Make sure different fast charging modes are compatible with the minimum specifications.
Stability Testing
The new generation of USB Type-C® requires high power. When charging with high voltage and a high electrical current, durability, and stability are key points that users pay attention to.
Continuous high-power charging curve monitoring
Out-of-Box Experience
Inspect printed labels, appearance, package contents, documentation, fast charging technology support, voltage and electrical current, association verification labels, safety regulations, etc.
In addition to the tests mentioned above, Allion can also design customized tests for your products and compare them with your competitors. If you have any technical questions or needs related to power bank testing, feel free to contact us by contact form or email.