Allion Wireless Equipment for TR-398 (AWE TR-398)
The Allion Wireless Equipment for TR-398 is a wireless performance test solution that tests with 32 real Wi-Fi 6 client devices based on the Broadband Forum's TR-398 Issue 2 Corrigendum 1 Specification. Future TR-398 test cases are also possible through test suite upgrades.
Contact Us
By testing with real client devices, the AWE TR-398 can help network product manufacturers provide real and immediate feedback, the Quality of Experience (QoE) can be reviewed, analyzed, and enhanced.
The AWE TR-398 test cases can be automated and easily customized through manual modification to meet different customer needs. This solution has a multi-antenna design, which can reduce performance deterioration due to the mismatch of APUT placement and antenna polarization. The AWE TR-398 can test according to current TR-398 specifications, and when updated, future TR-398 test cases are possible through software and hardware test suite upgrades achieving new TR-398 testing.
With the TR-398 test suite provided, it is possible to perform the TR-398 test automatically or to modify test cases and conditions manually with ease. The hardware is 6 GHz compatible and can also be used for mesh-related performance testing. Mesh-related testing will be introduced in a later issue of TR-398 as well as other performance test plans of other Standard Development Organizations (SDOs) including ETSI, CCSA, and more.
AWE has options available based on your demands, including DUT as Station (e.g. Laptop, Mobile), Mesh AP Roaming Test and Wi-Fi 7 test can be enabled with swappable Wi-Fi 7 modules.
AWE TR-398 Topology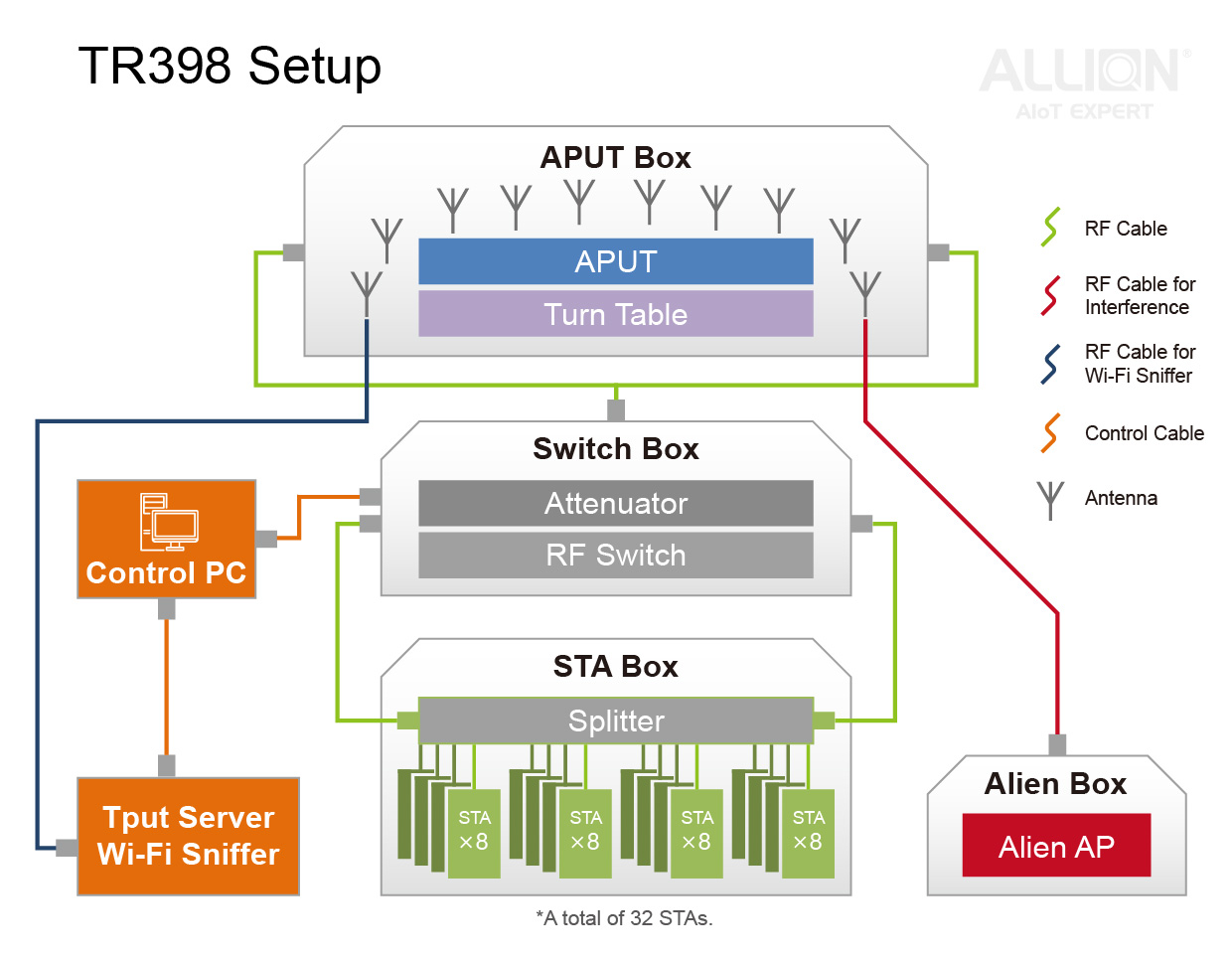 AWE TR-398 Product Image
1. Broadband Forum Certified
As a Broadband Forum Authorized Test Lab, Allion designed the AWE TR-398 to be used for TR-398 Issue 2 Corrigendum 1 Certification and other TR-398 technical tests.
2. Wi-F
i 6 Hardware Support
Capable of Wi-Fi 6 GHz performance testing as well as customization for specific client needs.
3. Real Performance Measurement
Tests with 32 actual Wi-Fi 6 GHz clients device, providing useful data on wireless performance validations for APs and routers.
Data transmission rates, coverage, and directivity in the 2.4 and 5 GHz frequency bands
Maximum throughput with 32 real clients; future upgrade possibilities
The user application/scenario can be executed on each of 32 real clients
4. Eliminate Wireless Dead Spots through 8 Dipole Antennas
We have developed specially designed dipole antennas to solve the common dead spot problem; not only does the AWE TR-398 provide a stable Wi-Fi signal, but it also reduces measurement errors caused by APUT placement.
5. Quality Professionals Safeguarding Your Product
Allion quality professionals make sure products undergo rigorous validations, verifications, and debugging, so you don't have to, effectively reducing your equipment, testing, and debugging costs.
6. Rich Debugging Experience
Allion designed the AWE TR-398 based on years of BBF.398 debugging experience, helping you speed up your product development and time to market.
7. High Configurability
Tests conditions and scripts are configurable and customizable for Wi-Fi functionality and performance through modularized design.
8. Test Suite Upgrades Available
The test suite can be upgraded to support future test cases released by ETSI and CCSA.
The hardware and software systems independently developed by Allion Labs can provide maximum flexibility to meet the needs of different industries.
Through the AWE TR-398 wireless solution, tests can be automated and customized, greatly shortening the time to market and development process and receiving complete, useful feedback on the product.
If you have any questions or needs regarding the AWE TR-398, Allion will be delighted to contact you. Please leave us an email or fill out this contact form and we will get back to you as soon as possible!