DisplayPort
DisplayPort is a digital display interface technology introduced to reduce display complexity and accelerate the adoption of secure signals technology for HD video display and transfer with optional digital content protection capability.
Since replacing other display technologies such as DVI, LVDS, and VGA, DisplayPort has become more popular with manufacturers as a leading digital display technology. DisplayPort can also be used in applications where connector space is limited for better performance and high resolution than the standard cables.
Best of all, the flexibility of DisplayPort allows compatibility with older application models through a dongle of adaptor connection. You are not required to replace your old applications; you simply need to validate DisplayPort-related technologies for interoperability performance. For more information, please refer to the DisplayPort website.
Allion USA-SGS is the best partner for such testing support. An authorized Video Electronics Standard Association (VESA®) member, Allion USA-SGS performs DisplayPort Compliance Testing that ensures products have implemented the specification requirements and features necessary for standards compliance.
Allion USA-SGS is the first VESA-accredited test lab in Taiwan with deep expertise in DisplayPort testing and technical support.
The Latest Version of DisplayPort™ 2.0 Video Standard
VESA already released version 2.0 of the DisplayPort™ (DP) audio-video standard, which supports 8K resolutions, higher refresh rates for 4K/HDR, and virtual reality applications. DP 2.0 provides up to a 3X increase in data bandwidth performance compared to the previous version of DisplayPort (DP 1.4a), as well as new capabilities to address the future performance requirements of traditional displays.
The advantages of DP 2.0 are enjoyed across both the native DP connector as well as the USB Type-C® (also called USB-C®) connector, which carries the DP audio-video signal through DisplayPort Alt Mode. 
The increased video bandwidth performance of DP 2.0 carried over the USB-C® connector enables simultaneous higher-speed USB data transfer without compromising display performance. DP 2.0 leverages the Thunderbolt™ 3 physical interface (PHY) layer while maintaining the flexibility of DP protocol in order to boost the data bandwidth and promote convergence across industry-leading IO standards.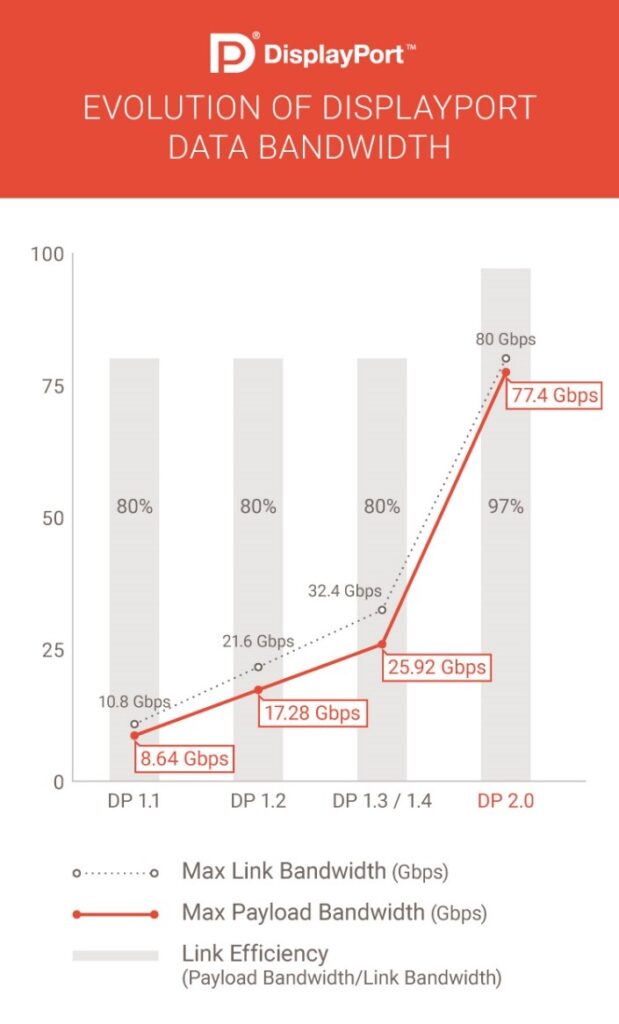 Fig 1. Evolution of DisplayPort Data Bandwidth from DisplayPort
Introduction of DisplayPort™ Alt Mode
DisplayPort Alt Mode version 2.0 enables all of the latest capabilities of DisplayPort through the USB Type-C® connector, including beyond-8K resolution and higher refresh rates, along with USB data delivery. DisplayPort Alt Mode 2.0 provides seamless interoperability with the new USB4® specification published by the USB Implementers Forum (USB-IF) and fully enables all of the features in the latest version of the DisplayPort standard (version 2.0) through the USB Type-C® connector. 
With DisplayPort Alt Mode, the USB-C® connector can transmit up to 80Gbps of DisplayPort video data utilizing all four high-speed lanes in the cable, or up to 40 Gbps with simultaneous SuperSpeed USB data delivery.
VESA anticipates the first products incorporating DisplayPort Alt Mode 2.0 to appear on the market in 2021.
VESA DisplayPort Compliance 1.4 Program
The DisplayPort Compliance 1.4 Program ensures certified products deliver the highest resolutions, the fastest refresh rates, and the deepest color depths over standard cables.

Product Category
The most versatile high-performance solutions
Monitors

Projectors

Mobile Devices

Cable Adapters/Adapters
DisplayPort Alt Mode Over USB Type-C®
※ USB Type-C® to DVI/HDMI/VGA Adapters or Cable Adapters
 Test Appliances
Computers
Monitors
Panels
Projectors
HD Content Applications
Test Coverage 
Device Category
Sink
Source (Dual Mode)
Media
Dongle/Cable Adapter
 Test Category
Physical Layer Test
Link Layer Test
HDCP Test ( not mandatory for DisplayPort logo)
Interoperability Test (CTS 1.0)
EDID Test
MST (Multi-Stream Transport) Protocol and Interoperability Test​
HDCP2.2 Test (Mandatory if a DP Device supports HDCP2.2)
To find out more or request test service assistance, please contact us here.